This is a list of active mountain dulcimer luthiers. Many of them build hammered dulcimers and other instruments as well.
Inclusion in this list is not an endorsement of any kind. It does mean that the builder has a Web site, has been in business for a considerable time, and/or has been recommended by someone on ED. Prices are the minimum listed price for a full-sized mountain dulcimer. They aren't necessarily indicative of the average price a maker charges.
Foreign factory-made dulcimers (FFDs) are listed at the bottom, with appropriate caveats but no contact information. I generally view such instruments in a negative light, and I won't refrain from saying so.
The alphabetising works like this: by last name for individual builders; but for companies, by the first word in its name. (Hence, Black Mountain, Ken Bloom, Blue Lion, in that order.)
All listed sites active as of August 28, 2012 (except where noted). If we're missing anyone, speak up!
++++++++++++++++++++++++++++++++++++++++++++++++++++++++++++++++++++++++++++++++++++++++++++++++
AEOLUS
(Dale Foye)
http://www.aeolusmusic.com/aisubhtml/aidulc2.html
Orange County, CA
From $1,500
BACKYARD MUSIC
http://www.backyardmusic.com/Welcome.html
Hamden, CT
Cardboard, from $60
BEAR MEADOW
(Dwain Wilder)
http://www.bearmeadow.com
Rochester, NY
From $800
RICHARD BEARD
http://www.beard-instruments.com
Rutherfordton, NC
No pricing info
DAVID BEEDE
http://www.davidbeede.com/
Melrose, FL
From $265
DOUG BERCH
http://dougberch.com/
Okemos, MI
From $600
BILL BERG
http://www.mountainmademusic.com/default.asp
Columbus, IN
From $135
BIRDSONG HARP CENTER
(Danny Hart)
http://www.birdsongharpcenter.com/tnmusicbox.html
Holladay, TN
No pricing info
BLACK MOUNTAIN
http://www.blackmtninstruments.com
Calistoga, CA
From $153
KEN BLOOM
http://www.boweddulcimer.com/
Pilot Mountain, NC
No pricing info
BLUE LION
http://www.bluelioninstruments.com
Santa Margarita, CA
From $445
MICHAEL BOWMAN
http://whatshebuildinginthere.com/?cat=10
Rossburg, OH
No pricing info
JC BRADSHAW
(CALICO POSSUM)
Snow Hill, NC
Passed away Aug 26,2012
CARROT CREEK
(Steve Miklos)
http://carrotcreek.com/
Norwalk, CT
From $125
BONNIE CAROL
http://www.bonniecarol.com/Inventory%209-06.htm
Nederland, CO
From $575
NILS CASPERSSON
http://orleansdulcimers.com/
Victor, NY
From $235
CEDAR CREEK
http://www.cedarcreekdulcimers.com
Branson, MO
From $179
RUSS CHILDERS
(limited MD production)
http://home.fuse.net/russchilders/activity.html
Batavia, OH
No pricing info
MIKE CLEMMER
(Wood-N-Strings)
http://www.clemmerdulcimer.com/
Townsend, TN
From $350
RON COOK
(Coog Instruments)
http://www.roncookstudios.com/
Santa Cruz, CA
From $1,500
CRIPPLE CREEK
http://www.dulcimer.net/
Manitou Springs, CO
From $350
DARCYHORSE
http://darcyhorsedulcimers.com/Dulcimers.aspx
Union City, PA
From $49
Website unresponsive Aug 26 2012
ALAN DARVEAUX
http://mountaindulcimer.ning.com/profile/AlanDarveaux
Morganton, NC
From $500
DENNIS DENHARTOG
(Denny's Dulcimer Den)
http://dulcimerden.net/
Fort Wayne, IN
No pricing info
KATHY LEE DAVANZO
(no Web site) Tel: 607-760-1754
Vestal, NY
No pricing info
DAN AND ETHEL DOTY
http://www.dandotydulcimers.com/
Memphis, TN
From $325
ELLOREE GUITARS
(Rick Felkel)
http://www.angelfire.com/la2/elloree/
West Monroe, LA
From $400
STEVE ENDSLEY
(Plank Road Dulcimers -- no Web site)
sraendsley@sybertech.net
* 17750 N. IL 78, Canton, IL 61520
Canton, IL
No pricing info
MARK EUBANK
(No Website) Tel: 606-379-2747 * 7295 Hwy 328 E, Eubank, KY 42567
Eubank, KY
No pricing info
RON EWING
http://www.ronewingdulcimers.com/
Columbus, OH
From $225
TOM FELLENBAUM
http://www.acoustic-corner.com/fsi.php
Black Mountain, NC
From $425
MICHAEL FLUEGGE
(Germany, no web site)
michael-w.-fluegge@osnanet.de
* TEL: 0049-541-803049
Osnabrueck, GERMANY
No pricing info
FOLKCRAFT
http://www.folkcraft.com
Woodburn, IN
From $340
DONNIE FULWOOD
http://bellsouthpwp2.net/f/u/fulwood2/Dulcimer/
Macon, GA
From $190
GARY GALLIER
http://www.dulcimercentral.com/
Springfield, MO
From $1,250
GARDNER'S DULCIMER SHOP
http://www.gardnersdulcimer.com/
Grafton, OH
Fixed price $199
JEFF GAYNOR
(Noteworthy Woodworking)
http://notewood.com/
Instruments available at Prussia Valley (
http://www.prussiavalley.com/
) and Folk Notes (
http://www.folknotes.com/MD.html
)
Ohio
From $280
BOB GERNANDT
(Gernandt Stringed Instruments)
http://www.gernandt.com
Bryson City, NC
From $350
RON GIBSON
http://gibsondulcimers.com/
Marion, OH
From $269
GILA MOUNTAIN
(Kerry Coates has stopped building, but she maintains her site)
http://www.gilamountaindulcimers.com/
JIM & BRENDA GOOD
(Mastertone)
http://mastertonedulcimers.webs.com/
Walton, WV
No pricing info
GREENE MOUNTAIN DULCIMER
http://greenemountaindulcimer.com/index.html
Peachtree City, GA
No pricing Info
NIC HAMBAS
http://www.hambasdulcimers.com/
Rochester, NY
From $360
HENSLEY DULCIMERS
http://www.hensleymountaindulcimers.com/index.html
McKee, KY
From $220
DAVID HONEA
(No Web site)
fyrfytr00@hotmail.com
White, GA
From $150.00
HUGH HUNTER
(Midnight Special Instruments)
http://www.midnightspecial.ca
Rockwood, Ontario, CANADA
From 275 Canadian dollars
JOHN HURON
http://www.noteworthyjohn.com/
Bristol, TN
From $375
ANTHONY J. HUVARD
http://www.cybozone.com/luthier/pricelist.html
Petersburg, VA
From $750
HX DULCIMERS
(Vince Haley/Design Inspiration)
http://idesigninspiration.com/dulcimer.html
Canton, OH
From $550
JAM COURT
http://www.jamcourt.com/
Independence, KY
From $375
JAMES JONES
http://jamesjonesinstruments.com/
Bedford, VA
From $550
JUNE APPLE
(Carl Gotzmer)
http://www.juneappledulcimers.com/
Accokeek, MD
From $195
GEORGE KELISCHEK
susato@susato.com
A contemporary of Jean Ritchie, George is the country's senior mountain dulcimer luthier, still building. The Kelischek Workshop website (http://www.susato.com) does NOT list his dulcimers, but you can email him to arrange a custom build.
Brasstown, NC
From $1,600
KUDZUPATCH
(Ben Seymour)
http://www.kudzupatch.net/kpdulcimers.htm
Tryon, NC
From $530
JEFF LAMBERT
(Jenny Wiley Dulcimers)
http://www.jennywileydulcimers.com/
Henderson, KY
From $125
JACK LARWA
http://www.dulcimercraft.com/
Eddyville, KY
From $350
LAUREL MOUNTAIN
(Mary Matarainen)
http://www.laurelmountaininstruments.com/
Winsted, CT
From $195
DAVID LYNCH
(Sweet Woods/Harpmaker)
http://www.sweetwoodsinstruments.com/
Warrensburg, MO
From $125
BOB MAGOWAN
(no Web site)
magowandulcimers@comcast.net
tel: (901) 751-8306
Memphis, TN
From $400
WARREN MAY
http://www.warrenamay.com
Berea, KY
From $325
ED MAZE
(No Web site)
pickawaymusic@cfl.rr.com
.
Valkaria, FL
No pricing info
MAC McKINNEY
http://www.highcountrydulcimers.com
Boone, NC
No pricing info
MCSPADDEN
http://www.mcspaddendulcimers.com
Mountain View, AR
From $374
WALTER MESSICK
(Cabin Creek Musical Instruments)
http://www.cabincreekmusic.com/MountainDulcimers.html
Mouth of Wilson, VA
Fixed price: $325
FRED & SUE MOORE
(Trinity Dulcimers)
http://www.trinitydulcimers.com/
Chanute,KS
No pricing info
MODERN MOUNTAIN
http://www.modernmountaindulcimer.com/
Site unresponsive Aug 28 2012
Batesville, AR
From $300
DON NEUHAUSER
(no Web site)
dot3518@insightbb.com
7914 Hidden River TR. Charlestown, IN. 47111
T.K. O'BRIEN
http://craggymtnmusic.com/
Lake Junaluska, NC
From $151
OLYMPIA DULCIMER COMPANY
(Walkabout dulcimers)
http://www.walkaboutdulcimer.com/contact.htm
Wimberley, TX
From $445
Probst Stringed Instruments
http://www.probststringedinstruments.com
Eagle Rock, CA
From $1250
WENDELL POWELL
http://home.centurytel.net/Dulciaddict/dulciaddict.htm
Van Buren, AR
No pricing info
ARTHUR ROBB
http://www.art-robb.co.uk/
Malmesbury, UNITED KINGDOM
No pricing info
JERRY ROCKWELL
http://www.jcrmusic.com/cat_teardrop.html
Guysville, OH
From $250
JOHN ROWDEN
(Dulcimers by JR)
http://jrchristmastreefarm.tripod.com/
Newcomerstown, OH
From $89
BILL RICH
http://www.papawsdulcimers.com/
Seymour, TN
From $225
GARY SAGER
http://www.prussiavalley.com/
Waverly, OH
From $400
BOB SEARS
http://www.annsartannex.com/Dulcimers.html
Florence, CO
From $325
JEFF SEBENS
No Web site Tel: 276-755-3808
Cana,VA
From $90
JEREMEY SEEGER
http://www.jeremyseeger.com/
Rochester, VT
From $552
DAVE SEWELL
http://www.photobucket.com/davesewell
Baltimore, MD
From $450
SMOKY MOUNTAIN DULCIMERS
(E. Dale Eckard; Mark Edelman)
http://smokymountaindulcimers.com/Dulcimers.htm
Gatlinburg, TN
From $179
SMOKEY MOUNTAIN DULCIMER WORKS
(Blaine Horlocker)
http://www.smokeymountaindulcimer.com/
Fort Myers, FL
No pricing info
JOHN STOCKARD
http://home.windstream.net/stockard/
Dahlonega, GA
From $385
SWEET STRINGS
(Jon Harris/no Web site)
jonwharris@knology.net
"We have carefully avoided a Web Site. Festivals and word of mouth only."
BOB THOMASON
http://geocities.com/dulcimerbob/
Sautee, GA
From $275
DOUG THOMSON
(Banjomers)
http://www.banjomer.com/
Upland, CA
From $400
FURMAN THORNTON
http://www.thorntondulcimers.com/
Hartwell, GA
From $495
TIMBRE HILL
(Paul Conrad)
http://www.timbrehilldulcimers.com/
Millersburg, OH
From $300
JAMES TRANTHAM
http://www.tranthamfamily.com/
Waynesville, NC
No pricing info
RICHARD TROUGHEAR
http://www.dulcimers.com.au/
Brogo, New South Wales, AUSTRALIA
Fixed price: A$750
WILFRIED ULRICH
(Ulricus -- site mostly in German)
http://www.ulrich-instrumente.de/
Norden, Ostfriesland, GERMANY
No pricing info
BARNABY WALTERS
http://www.waterpigs.co.uk/lutherie/
Devon, UK
No pricing info
JARED WEAVER
(Echo Hollow Dulcimers)
http://www.echohollowdulcimers.com/
Knoxville, TN
From $194
GREG & TISH WESTMAN
(limited MD production)
http://www.westmaninstruments.com
Mabscott, WV
No Pricing info
JIM VANDER WOUDE
http://www.dulcimerstore.com
Grand Rapids, MI
From $250
LES & BETTY WOODSON
(Dulcimers Spectacular)
http://www.leswoodsondulcimers.com
Elizabethtown, KY
From $195
TOM YOCKY
http://www.tomyocky.com/index1.html
Caldwell, TX
From $299
KEITH YOUNG
http://appalachiandulcimers.com/
Annandale, VA
Passed away February 2012
+++++++++++++++++++++++++++++++++++++++++++++++++++++++++++++++++++++++++
Dulcimers made in foreign factories with low-wage labour
APPLE CREEK
A Trophy Music brand. These "hand-crafted, European-made, pro-model" dulcimers are churned out on an assembly line in Romania and distributed to scores of US wholesalers and retail operations. The higher-end models are of passable quality, and zero authenticity. The $79 student model is an atrocity. At least one hourglass design ripped off from Folkcraft, it is alleged. The same money will get you a fine new or second-hand instrument from an individual builder or small American factory.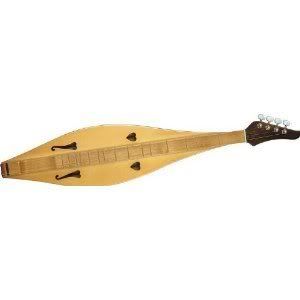 The Apple Creek, made in Romania.
FIRST ACT
Chinese dulcimers, sold by the container load to Wal-Mart, instrument wholesalers and a few chain stores. Recently (and thankfully) discontinued. Very cheap -- $20 will buy you one in perfect shape. Durable, suitable for institutional settings. Best tuned as a soprano (G-d-gg); intonation in standard mixolydian (DAdd) is very poor. Aero-dynamic design also makes them ideal for long-distance dulcimer tosses.
http://sendables.jibjab.com/originals/big_box_mart
(Highly recommended site)
JOHNSON PRODUCTS
The Johnson Lap Dulcimer, according to one Johnson retailer, is "hand-made in China, where the costs of production are much lower, meaning the dulcimer can be sold at a true value price." Uh huh. On-line distributors for this assembly-line instrument are popping up everywhere, including eBay and Amazon. I've not had the misfortune of playing one yet, but I know it is made mostly of plywood and Indonesia Mahogany, undoubtedly plundered from the dwindling Borneo forest.
Johnson Lap Dulcimer, the most recent Chinese-made entry to the market.
MID-EAST MFG
These dulcimers are deceptively attractive. They are also horribly made in a Pakistani factory with cheap commodity materials. Inconsistent quality, but never better than mediocre. Also sold under the "Early Music Shop" (EMS) brand and through a zillion eBay sellers. MEM's well-deserved reputation for abysmal quality is finally catching up with it, although many new players (especially in the UK) still fall victim to this company's slick & ubiquitous "ethnic instruments" Internet marketing. To its credit, Lark in the Morning stopped selling these (although it still sells Apple Creek).
A Mid-east MFG hourglass, made in Pakistan. Don't be fooled by the appealing cosmetics -- it's rubbish.
SAGA MUSICAL INSTRUMENTS
Saga manufactures a variety of cheap stringed instruments (especially guitars) through a network of Chinese factories, at least one of which it owns outright. Using integrated PR-style marketing rather than relying solely on advertising, it orchestrates an endless stream of glowing "reviews" in trade magazines (the emphasis always placed on "value"), while placing its instruments in the hands of notable musicians wherever possible for photo ops. It's a very successful formula.
Saga found initial success building junk-quality mountain dulcimers in Japan in the 1980s, dropping the instrument from its growing line of imports when sales collapsed. Alas, the company has once again taken note of our instrument, and its product portfolio now includes a shockingly offensive Chinese-made parody of a mountain dulcimer. So far, no dulcimer player of note has appeared in a Saga promotional spot, but we should brace for the worst.
According to the company's marketing literature, the "Appalachian APD-1 Pickin' Pac® for Mountain Dulcimer is a true representation of the old-timey mountain life-style." It is, in fact, an entirely alien and soul-less object, mass-produced with sweatshop labour in some bleak concrete factory block half a planet away from the nearest Carolina hemlock. The sound is pitiably thin and metallic (due in part, perhaps, to the steel string-tensor rod in the headstock). The geared tuners are flimsy enough to bend under modest stress, and the stamped-in fretwork yields a robust array of pitch errors.
Saga Pickin' Pac, made in China. Warning: Avoid.